Company History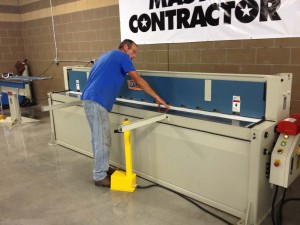 Over the years, the exponential growth that The Advanced Construction Group experienced within the commercial and industrial construction industry lead to the natural development of Advanced Metal Fabrication.  We believe that our commitment to an exceptional customer experience from start to finish, coupled with a level of craftsmanship that will not be matched by our competitors, is what sets us apart within the industry. Our customers seem to agree. With a highly experienced team of industry professionals leading the way, AMF has the necessary capabilities to identify the ideal solution for your commercial gutter, roof, or sheet metal project and to complete it to your exact specifications. Our commitment to unsurpassed customer service, along with our expertise and an unmatched degree of workmanship, push us toward our ongoing goal to be the #1 sheet metal shop in the Midwest.
At Advanced Metal Fabrication, we specialize in commercial gutters, metal roofing, composite wall panels and custom sheet metal flashing components to meet a wide range of industrial and commercial applications. No matter the client, no matter the need, our sheet metal fabricators and installers will complete the project with the highest standard of excellence and service that you can depend on.
Advanced Metal Fabrication is conveniently located in Maumee, Ohio, just outside of Toledo. This location is ideal, allowing AMF to be the go-to provider of a wide variety of commercial and industrial metal fabrication services throughout the Great Lakes region.
Our Mission Statement
Advanced Metal Fabrications strives to provide the Great Lakes region with high-quality steel products at a competitive price, while pushing for exceptional and rapid service, every time.
To learn more the services we provide and to experience what true customer service should be, call Advanced Metal Fabrication today at 419-891-4030. We are the Midwest's Metal Installation Specialists.